Full of excitement for the first hands-on experience on Laser-induced breakdown spectroscopy (LIBS) measurements, we recently welcomed Joachim, Heinrich, and Volker from LSA at our RHI Magnesita Technology Center in Leoben. With them, two huge wooden boxes arrived, delivered by a shipping company. The boxes contained a LIBS demo system that was set up at our facility and was available to us for three weeks of test measurements. As the boxes were carefully opened, anticipation filled the air. LIBS is a cutting-edge analytical technique that offers unique insights into the elemental composition of materials. The system utilizes focused laser pulses to create a micro plasma on the material's surface, causing it to emit light. This emitted light is then analyzed with a spectrometer to identify the elemental composition of the sample.
The LSA team gave us a comprehensive training, so we can use these tools professionally to study our refractory material and to create the baseline for a fully automated sorting system. With these measurements the system should be able to recognize target specifications of pursued sorting classes, so we chose to train with a variety of raw materials and brick types used in the steel and cement industry. The outcome of our test runs were a qualitative overview about the response of the LIBS signals to the different sample types. Combining LSA's expertise in LIBS technology with our in-depth knowledge of refractory materials proved to be the bedrock of our success. Their wealth of experience not only accelerated our understanding of LIBS but also provided valuable insights into optimizing the technique for our specific needs. Together we were determined to unlock the full potential of LIBS and its application in our industry.
Beyond the technical marvel and scientific significance, our practical experience with LIBS measurements has been an exhilarating journey. Watching the laser beam strike the sample like dazzling fireworks, filled us with awe. The sparks emitted during the process fueled our curiosity and passion for material science. Embracing this spectacle of science, we are motivated to explore further, pushing boundaries, and fostering collaborations that illuminate our path ahead. Stay tuned for more information about the progress we make!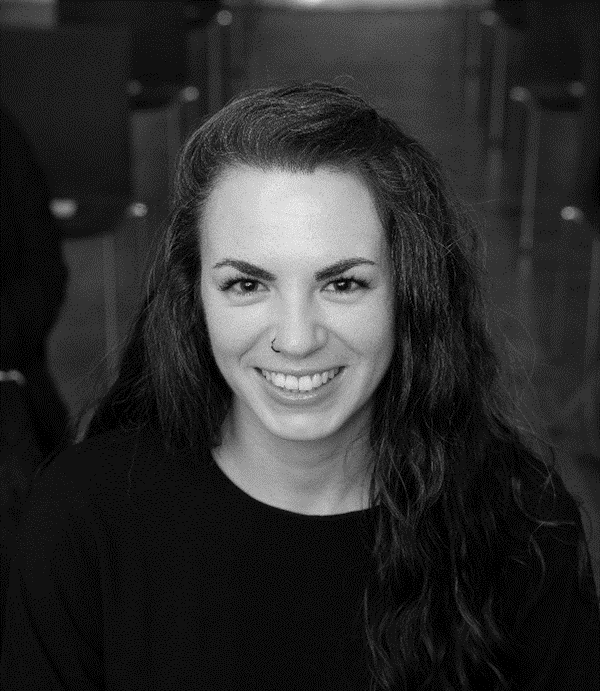 Author's Portrait
Katja Goetschl
Dr. Katja Goetschl studied Geosciences at the Graz University of Technology, specializing in the field of Experimental Geochemistry and the fundamentals of CaCO3 mineral (trans)formation. She joined RHI Magnesita as Pioneer Research Associate in 01/2023.
One of our project objectives is to describe the European waste management system quantitatively identifying the whereabouts of spent refractory material and showing potential but unused resources of spent refractories for recycling. Waste management is a crucial aspect of environmental sustainability, and our method of choice to describe such a system is the Material Flow Analysis (MFA). MFA is a systematic assessment of material flows within a defined system, which helps to identify problems and quantify the impact of potential measures on resource recovery. However, a challenging part of this task is to find suitable data to work with because of issues regarding data availability, data quality, data consistency, and data confidentiality. Especially the first challenge (data availability) is difficult to solve with conventional literature search.
The reason for this could be that industrial research also focuses on their generated wastes as well as general lack of published company related (waste) data. Imagine you are part of the R&D department of a big steel producing company. The task you are currently working on is the reduction of refractory waste disposal by identifying other intra-plant usages. Time goes by and you discovered the opportunity of refractory wastes being used as slag conditioner because of the high MgO content. You not only reduced the disposal costs but also reduced the costs of primary MgO, which had to be bought otherwise.
Other than academic researchers, industrial researchers are not measured by their publications. Their overall goal is to develop new products and technologies and solve problems in and around their company's production. Therefore, findings of industrial researchers are often not published especially when those findings help to gain market advantage.
Although this is pure speculation, it must be noted that waste related data in general is difficult to obtain.
For this reason, we are currently planning to conduct a survey asking the most important questions for our MFA. This survey will not only cover the question of the annual demand for refractory materials per industry but also the annual amount of generated refractory waste and especially the following distribution into the categories down-cycling, recycling and disposal. A small glimpse from our first draft can be seen in Figure 1.

Another challenge will be to verify the trustworthiness of the data obtained, as the survey is partly disseminated via social media. Consequently, anyone, whether they work in the related industry or not, can fill in this survey and send it off.
And to answer this upcoming question right away: Yes, it will be anonymous. We are not at all interested in combining these data with company names. I hope that many of you will participate, as the outcome of our research will be more precise the more date we have. I thank you in advance for your contribution and for sharing our survey as broadly as possible.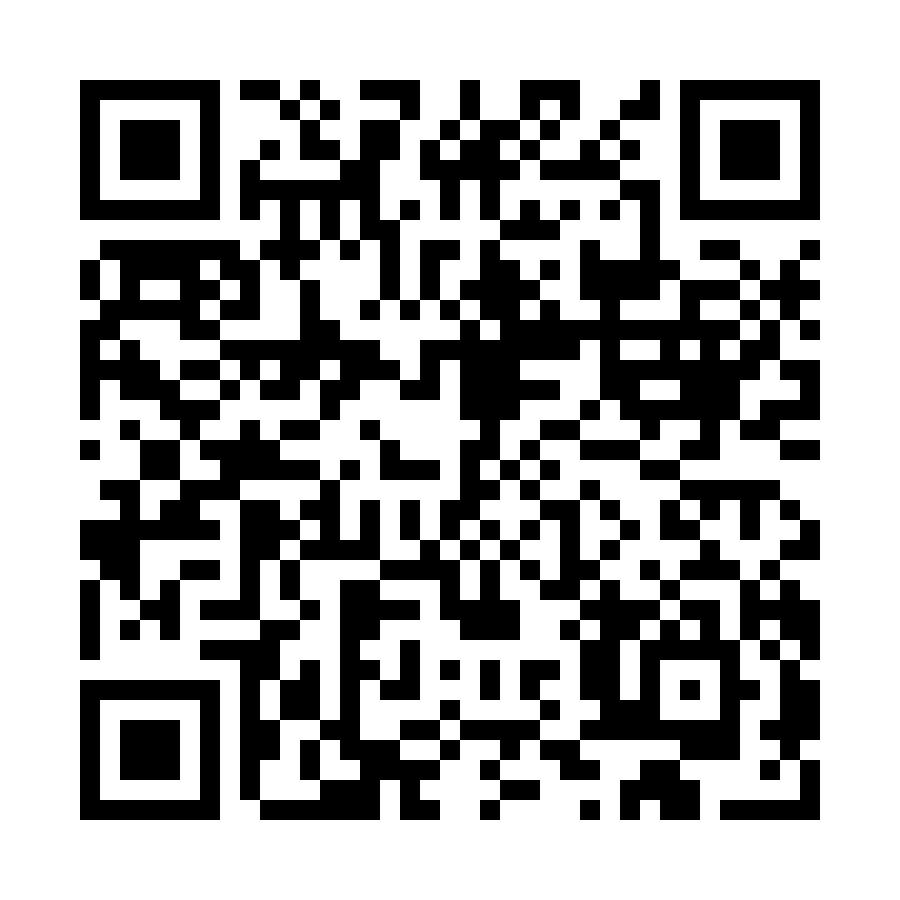 You can either follow this link or use the QR code to get to the survey.
Author's Portrait
Florian Feucht
DI Florian Feucht, is research associate at the Chair of Waste Management and Waste Treatment at the Montanuniversitaet Leoben, and part of the Workgroup: "Environmental remediation and mineral waste". Since 2023 he participates in the Montanuniversitaet's PhD Program. From 2018 to 2023 he studied "applied geoscience" at the Montanuniversitaet Leoben and wrote his master thesis about "Chemical-Mineralogical Characterization of Ladle Slag from voestalpine Linz". From 2014 to 2018 he studied at the University of Vienna Earth Sciences and wrote a bachelor thesis on the subject: "Petrological and Petrographical Ínvestigation of Mafic-, Ultramafic Rocks from the Dunkelsteinerwald, Gföhler Unit, Moldanubic" Florian's research interests are chemical-mineralogical characterisation of mineral wastes, Mineralogy, Slag mineralogy, Recycling and Waste Management.
Now a very long time ago after the notification of acceptance of our submitted proposal, Alex asked me if I would take over the lead of WP 1 "Material management and sampling". And I thought, oh wow, it's the first time RHI Magnesita is leading a European funded project, and me starting with the first of eleven work packages, that serves as the foundation and basis for the whole project. However, challenge accepted and after the kick-off meeting in June 2022 held in Leoben, Austria, my team and I worked intensively and enthusiastically on three tasks for the next 12 months.
In task one we identified the breakout materials to be focused on during the project according to the current market situation and the importance for recycling. We planned the sourcing and representative sampling of appropriate feedstock materials from the steel and cement industry and performed three sampling campaigns at the RHI Magnesita MIRECO recycling center in Mitterdorf. We established extensive sample distribution lists, where we tried to fulfill satisfactorily all the partners needs and requirements, especially regarding sample processing, to guarantee optimal starting conditions for their work in the other work packages. In particular, the part of sample preparation connected with sample information acquisition and formatting took us a lot of efforts, maybe more than originally thought, and we tried to give our partners a closer look into the world of refractory materials.
After internal process data capturing, sample collection and detailed material characterization by chemical and mineralogical investigations, in the second task we defined the material categories and target specifications for the pursued sorting classes. That plays a key role for the right sorting decisions of our automated sorting equipment to be developed. Additionally, this technical deliverable was critical to our project as it contains precise material specifications, and besides was hopefully very useful for our partners to get a better idea about our sorting objectives.
In task three we carried out on-site visits at customers from the steel, cement, and lime industry as potential providers for refractory recycling material to evaluate the breakout procedure, material condition and waste management there, and consequently identify potentials for our process developments. Furthermore, this was also important for our project team to get a clearer view of the applied demolition practices, recycling routines and the received secondary raw materials.
These three tasks finally led to the successful submission of three deliverable reports and the achievement of one milestone. I really want to thank all the partners for their participation in our bi-weekly or monthly meetings and their contribution over the entire period. A special thanks goes to Stefan, Katja, Thomas, Thomas, Simone, and Alex for the excellent teamwork at RHI Magnesita, without them it would not have been possible to successfully finish the ambitious goals set in this first work package. Altogether, this last 12 months were very exciting for us, and we are looking forward to further supporting our partners and keep on successfully working on our ReSoURCE project.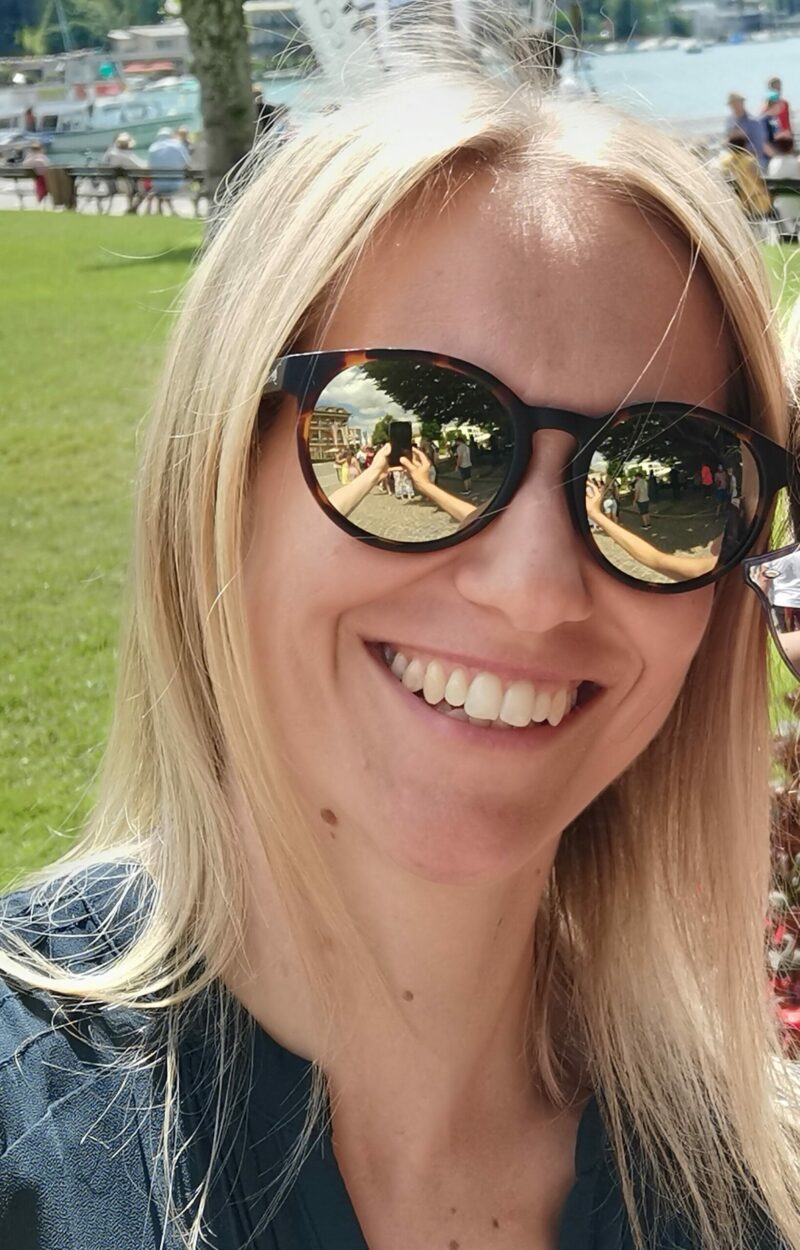 Author's Portrait
Sandra Koenigshofer
Dr. Sandra Königshofer is a Pioneer Research Associate at RHI Magnesita. She studied industrial environmental protection, waste management and process engineering at Montanunivertät Leoben. Sandra joined the Pioneer Research department in 2015 after finishing her dissertation in the field of processing and recycling of refractories.
The M12 meeting week started with a morning flight to Oslo, Norway on Monday morning (12th June 2023). Oslo welcomed us with a beautiful summer weather. From here we drove straight to Porsgrunn, Norway, with our RHIM team: Alexander Leitner, Carmen Loew, Sandra Koenigshofer, Stefan Heid, and me. It's a two and half-hour car journey from Oslo to Porsgrunn but, anyhow the beauty of Norway kept the trip interesting, and it was worth looking out the window as a co-passenger! We arrived at the hotel and went out to explore the Langesund beach as a team. When we came back, we were already behind our scheduled arrival time so we had to quickly get-ready for an optional dinner, planned by SINTEF in the restaurant Michel Seylmagers Hus in a 270-year-old building in Porsgrunn. The building that had been preserved by the Porsgrunn community, came with a chilling ghost story, exquisitely told by the restaurant owner. Even more than the menu, which was great, the time spent with our consortium members was excellent. It gave a great cheer-up and enthusiasm to start our M12 meeting the next morning. Special thanks to Akhilesh, Chandana and Kristin for finding such a special place!
The next morning, at 8.00 a.m. outside Hotel Vic, there was standing a bus to take us to Adminiet, the meeting venue. At 8.15 am, all consortium members sat inside the bus and took a ride to Adminiet. On the way there, the bus driver took us through the Heroya Industrial park, the main industrial site in Porsgrunn where big companies like Air Liquide, Equinor, Yara have their industrial sites located. After passing the industrial park in few minutes we reached our meeting venue. What a great and peaceful location near the seashore! Yet another great location, the SINTEF team found for us. The meeting started at 9 a.m. as planned, beginning with a technical overview by Alexander Leitner where he described what had been achieved technically in last year. This was followed by presentations of work package 1 to 8.The lunch was very well arranged in an open outdoor location which had a great view to the sea. After the lunch, we had presentations from work package 9 to 11 followed by a media training by Carmen Loew. What I could see was the great engagement from the team during the technical discussions as well as having fun during the media training. After a fruitful day, we went to our hotel for refreshing from where we were picked up to go back again to Langesund Bad restaurant for our dinner arranged by SINTEF. Thanks to the restaurant manager who welcomed us with a great welcome speech about the history of the restaurant. After 10 minutes of his speech he mentioned that he could talk even for 4 hours about the history of the place, so anyhow, I was quite happy that he decided to end his talk after 20 minutes. We finished our dinner very soon and since the weather was over-whelming some of the consortium members went for a quick swim in the North Sea late at a bright Norwegian summer night.
The next morning, Wednesday, we were again picked up by the bus to go to SINTEF's powder facility. It was exciting to see SINTEF's facility and the various scalabilities that their machines can accommodate to. After a one hour planned visit in the facility, we went back to the meeting venue where NEO was showcasing their hyperspectral camera setup to characterise different materials. It was truly amazing to see how physics work there. Thanks once again to the SINTEF and NEO team for demonstrating their facilities and camera setup. Then the meeting continued with the General Assembly. Many points were discussed and agreed between the consortium members. The general assembly was followed by the kick-off for Demonstrator B. After the lunch break, we had the second part of the media training. The meeting ended soon after that. Some left for their hotels and some others directly to the airport. I once again would like to thank SINTEF and SINTEF's secretary Haldis for arranging the event in such a well-organised manner.
The RHI Magnesita team left to Oslo and had a great dinner at an Indian restaurant there followed by a long walk in the city. The next day we left the hotel to see NEO's facility where we were welcomed by Julio andn NEO's team with a great lunch in their canteen. NEO's facility was great and the advanced instruments they have were quite over-whelming. Thanks to Julio for his hospitality and taking care of us from the arrival in Oslo until our departure from NEO. Finally, we drove back to Oslo airport and caught the flight back to Vienna. I am still impressed, what an effective trip this was with fantastic discussions overall! I would like to say thanks to each and everyone of our consortium member to make the M12 meeting a huge success – And now it's time to prepare and plan for our first review meeting with our EU Project Officer which will take place in the end of January or the beginning of February 2024!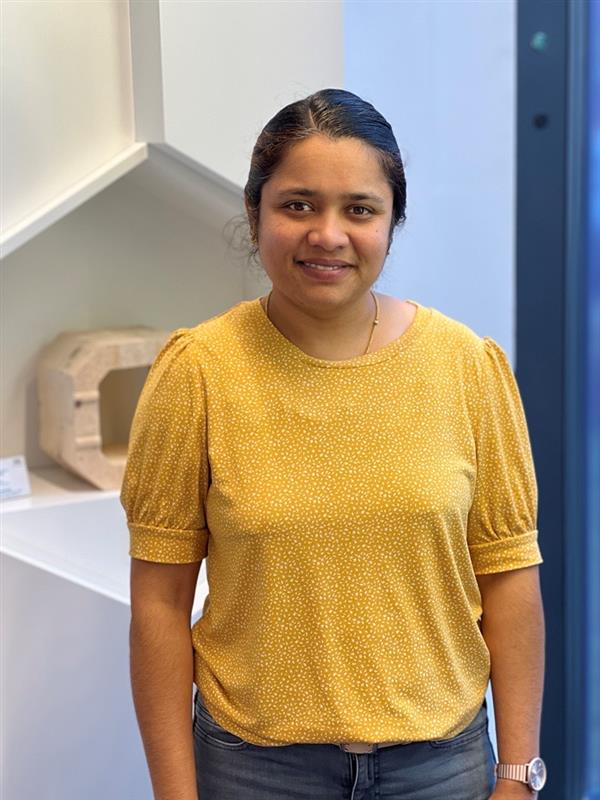 Author's Portrait
Saranya Azhaarudeen
Dr. Saranya Azhaarudeen studied at the Technical University of Denmark and has a PhD in Surface and Coatings Technology. She is Innovation Management Professional at RHI Magnesita and Coordinator for the project ReSoURCE.
Today, we want to give you an insight in our research at NEO. Here, all of the samples we received so far were scanned in our laboratory in Oslo, Norway, using our HySpex cameras. The image below (please open in new tab) shows the general setup in the lab. We have two cameras working in different wavelength ranges, the visible to near-infrared (VNIR, 400-1000nm) and the shortwave infrared (SWIR, 1000-2500nm). They are mounted next to each other, and each collect data when the samples are being moved underneath them on the moving table. We have specific illumination sources that are active in the SWIR because normal LED lightbulbs aren't, and we use a calibration panel for reference so we can correct the data after collection.
In the image below (please open in new tab), you can see that each brick represents a mixture of different spectra, depending on the pixel position within the brick. You can see that the spectral profile changes from the top (hot face) to the bottom (cold face). Material changes in the brick are caused by their closeness to the source of heat and changes in pressure. But also depending on the grain size, different areas in the brick will show different spectra. This means that the brick is not one homogeneous area but is made up of different materials that can be seen on the macro scale. Instead of trying to map the different raw materials in the brick, we buil a new model based on the brick type for each brick taking the whole brick into account and training based on the average spectra of parts of the bric We do this because on the final conveyor line in the sorting plant, we want to be able to mark different pieces of brick as a specific sorting class, instead of classifying each pixel and material indiviually. When we look at the model prediction compared to the known brick type, the model predicts the bricks correctly for 73% (SWIR) and 70% (VNIR) of the training samples. As we have a limited training sample set here (only a couple of bricks), it is likely that our models will get better over time with more samples.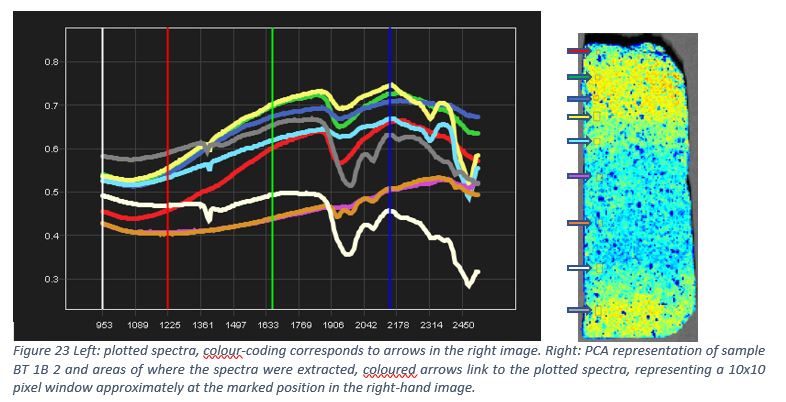 We can see that the original bricks can be classified quite well when looking at the general brick type. The example below is of a used brick from a steel casting ladle. It was identified as "fired MgO unknown" based on geochemistry and mineralogy performed by RHI Magnesita. What you can see in the image (please open in new tab) is the outside of the brick with a very dark appearance, and the inside slabs show a rather bright, white material with darker grains within. The classification of the raw materials here is quite diverse, showing aluminum (red) and different kinds of MgO components (orange, blue and yellow). The raw material classification below is based on the VNIR data, just as it was presented in the blog post about the hyperspectral imagery of the input raw materials (link). This shows the deiversity of the brick but does not allow assigning a clear brick type.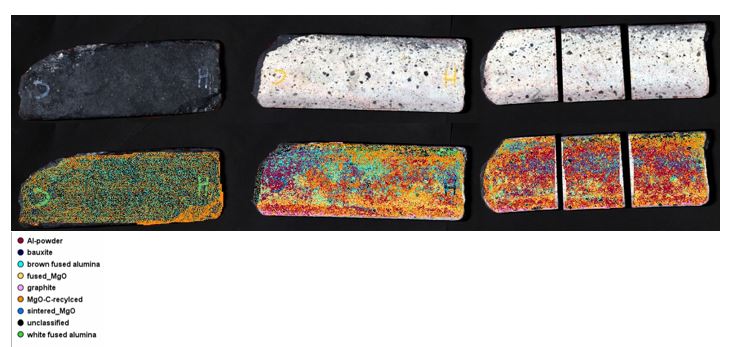 When we look at the brick composition classification, where we're concentrating on mapping the brick type instead of the input raw materials, the pixel-based classification gives us a much clearer image. Here, we're looking at both the VNIR and SWIR data. Please note, that the VNIR data has a higher spatial resolution, meaning that it has 4-times more pixels than the SWIR showing more small-scale changes. The input data for the modelling here is based on both the original and the used bricks provided by RHIM.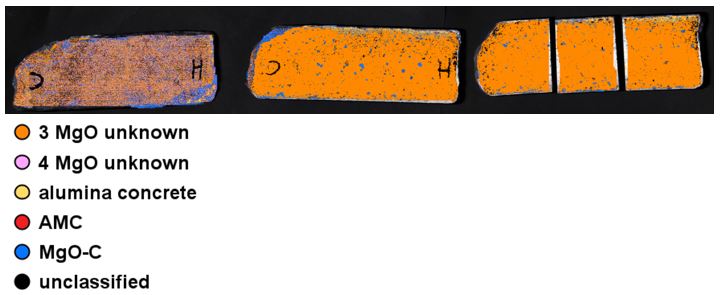 The VNIR data for this particular brick is classified dominantly as MgO unknown, reflecting the actual brick type. It's visible that the classification has more trouble classifying the outside of the brick (left sample) as well as the edges of the brick slabs that show changes in composition because of contact changes due to e.g., heat or mortar etc. Still, the overall brick is classified as an MgO-based brick, marking it correctly.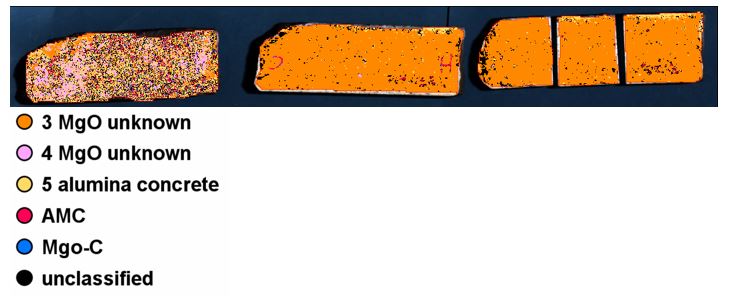 For the SWIR, the two inside slabs (middle and right) are classified quite clearly as the correct class (MgO-based brick) whereas the darker outside slab (left) is classified as a mix between MgO and alumina concrete.
These early results are promising, as they show that the different general brick types can be distinguished and classified and can aid people on site to make the correct sorting decisions.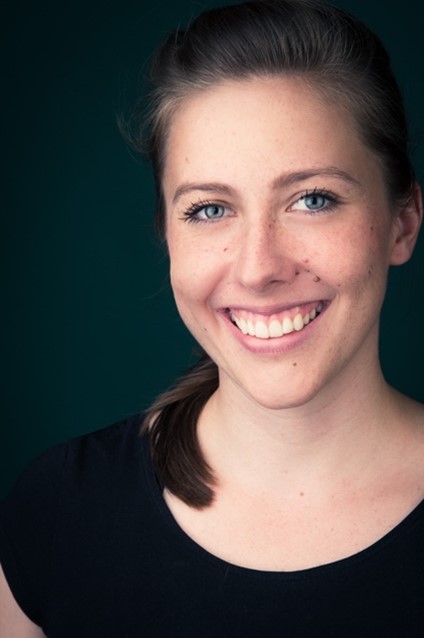 Author's Portrait
Friederike Koerting
Dr. Friederike Koerting is working for HySpex by Norsk Elektro Optikk AS as the Geological Hyperspectral Application Specialist. HySpex by NEO is the industry-leading brand for airborne and ground-based hyperspectral imaging and is a manufacturer of advanced electro-optical products.
Friederike is applying hyperspectral imaging to help miners mitigate risks, unlock value and save time. She enjoys communicating with and to users from research and industry alike, furthering her understanding of their needs, and the possible impact of applying HySpex solutions has on users. Friederike is passionate about creating accessible platforms with a user-first mindset and establishing long-lasting channels of communication for discussions and insights. She aims to apply her expertise in the field of technology-driven sustainable mining with a regard to environmental preservation and protection. That ultimately led her to start working for HySpex in April 2021 and for her to join the ReSoURCE project activities.