The First Samples Start Their Journey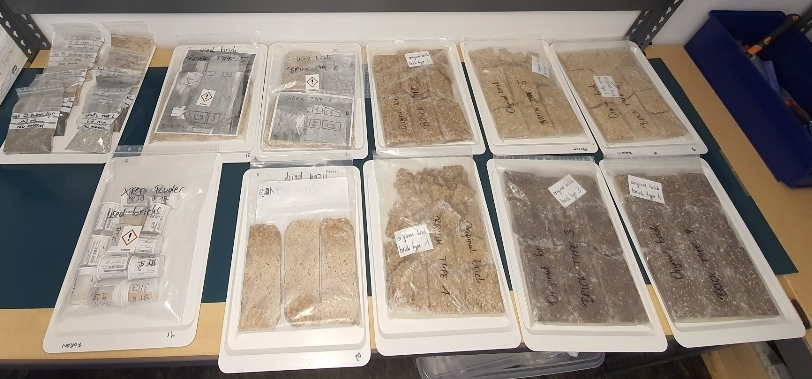 In one of our last blog posts, we have already reported on our sampling and the preparation of the samples for various analyses. Last week the first set of samples finally arrived at our project partner Norsk Elektro Optikk (NEO) AS in Norway. But before our samples went on tour, a few things had to be discussed, clarified and, above all, documented.
Since we will analyse different parameters together with our partners at the exact same position of the sample, if possible, our samples are sent in a circle and of course each partner must know what was examined on which samples and at which exact point. Not so easy with four different sample types (breakout material, raw materials, original bricks products and analysis samples) and up to six different samples per sample type. Therefore, in addition to our samples, our package also included a 15-page report with photo documentation of the samples, explanations of any labels and any chemical and mineralogical information that we were able to provide from RHI Magnesita. Of course, safety data sheets and safety instructions for each sample could not be left out as well.
After we have already carried out preliminary examinations on the samples, our project partners in Norway will now deal with the samples, where the first examinations with Hyper Spectral Imaging (HSI) will be carried out. After that, the samples will be sent to Germany, where our project partner Laser Analytical Systems & Automation GmbH (LSA) will work together with the Fraunhofer Institute for Laser Technology (ILT) on the LIBS measurements and sensor combinations. The samples then go back to Norway to analyse any differences after the LIBS measurements before the samples (or at least parts of them) finally end up back with us.
Unfortunately, despite thorough sample packaging, we have already had a few losses due to transport, but since we sent some reserve samples with each sample set, we still have enough material for the first round. And fortunately, we have stored more than 5 tons of reserve samples in Leoben – just in case.
As a next step, we are currently preparing the shipment of over 100 kg of fine breakout material for our project partners SINTEF AS (in Norway) and CPI – Center for Process Innovation Ltd (in Great Britain) and are already planning the next sampling for the next breakout material. This time we will sample spent refractory material from a steel casting ladle, another important recycling stream alongside cement rotary kiln refractory bricks… And then we can start all over again. A good opportunity to directly implement the important experiences we have gained in the last few months! We will definitely report on it and are excited to see what new challenges await us with this recycling material.

Partner